Lancôme Gloss In Love in Glittermania ($27)
– Love, love, love this bright coral shade, no wonder it's one of their best sellers! The formula lasts and has a beautiful sparkle to it.
Amirita Singh bangles (?)
– I love bangles: I love the tinkling sound, the different textures, the cute designs. Amrita Singh is one of my favorite jewelry designers because her bangles are unique and always garner me compliments! I bought this set a few years ago and my daughter has stolen at least half of them so it's about time for me to get another set. They are often on sale at Hautelook and other similar sites.
Guess Eppie Wedge Sandal ($59.99) –
 these cork wedges are ideal for summer and outdoor activities without sinking in the grass! These have a 4″ heel with a 1″ platform so they don't feel quite as high and are surprisingly comfortable!
Pink & Pepper Flat Coral Sandal ($39.99) – 
I bought a pair similar to these last summer and I'm still loving them. They are super comfortable due to the elastic around the ankle. They are fun and sassy and great for shorts, capris or sundresses! Every girl need a little bling!
Tiana B. "Painting with Flowers" Dress HSN (on sale for $39.90) – 
The original price of this dress was $79 but I got it on sale for $49.99 and now it's even cheaper. It's perfect for us over 40 women and sooooo flattering! It has a high waist to show off  the smallest part of your body, a full skirt, wide cap sleeves and a V back that doesn't show your bra! The fabric is a jersey knit that doesn't cling but skims over curves and is extremely comfortable and easy to wear! I've worn it with the coral flat sandals for lunch with the girls or a higher wedge with a cardi for an afternoon wedding. I absolutely love this dress and there are so many colors in it, you can add a myriad of accessories with it.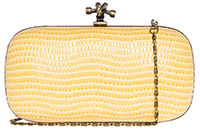 DailyLook Embossed Gloss Clutch ($39.99)
-this pretty little butter yellow clutch is perfect with the feminine dress above or any sundress this summer!
If you were to buy this entire outfit it would add up to around $177. For that price you are getting:
A fabulous summer dress to carry you right into fall that you can dress up or down, AND it's super flattering!!
A pair of comfortable flat coral sandals you can wear with shorts, skirts, dresses and pants.
A bright and cheery coral lip gloss that will last all summer.
A stack of pretty and fun bangles that you add to or subtract from and wear with a ton of different looks.
A darling clutch in a pretty spring and summer shade that will go with everything!
I really love this outfit and more importantly, I feel pretty and feminine in it!
What do you think of this look? Have you tried any of these brands or items?
What is your summer go-to fashion look?
[wp_ad_camp_2]